Plastic Weld 2oz 59ml Dissimilar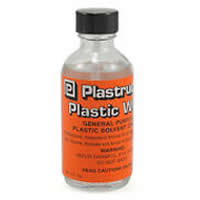 Brand:

Plastruct

Product Code:

PLA PPC2

Availability:

Out of Stock
We have currently sold out of this product although we can email you with an ETA of when this product will be in stock again.
We will be in touch soon with news on the availability of this product.
The leading general purpose solvent cement for fast, permanent bonding of most dissimilar plastics. Immediately tacky. Sets in minutes. Permanently bonds ABS to Butyrate, ABS to Styrene, ABS to Acrylic and more. Actually dissolves a thin film of the surfaces to be joined, creating a bond as strong as the surrounding areas. Also works as a liquid filler. Full coverage attained by capillary action. Comes with applicator brush in cap.