Expansion Hub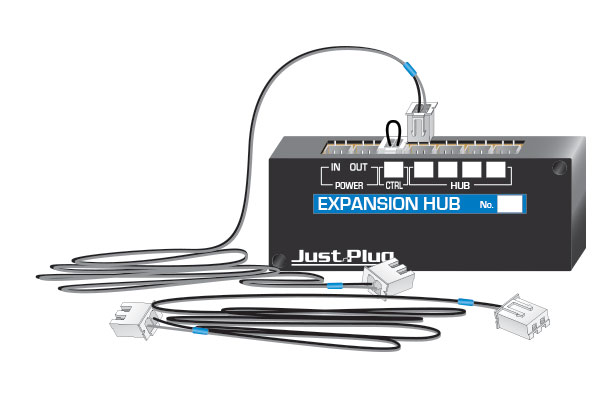 Use the Expansion Hub to connect up to 4 Light Hubs, expanding your Just Plug Lighting System quickly and easily. Includes four Connecting Cables for connecting Lights Hubs. Add an optional Auxiliary Switch for convenient operation.

Powering Your Light System- You will need one Just Plug Power Supply (WOO JP5773) to power up to 50 lights on your light system, or if you want to power your system from a train power pack, purchase Connecting Cables (WOO JP5760).

Kit Includes:
1 Expansion Hub - 3 3/8" l x 1 5/16" w x 7/8" d (8.57 cm x 3.33 cm x 2.22 cm)
1 CTRL Port Plug (installed)
4 Connecting Cables 48" (121 cm) each
Double-sided Mounting Tape - 1" x 2 1/2" (2.54 cm x 6.35 cm)
2 Mounting Screws
Illustrated Instructions
Please note: Don't plug LED lights into Expansion Hub
You may also be interested in...