Winter Set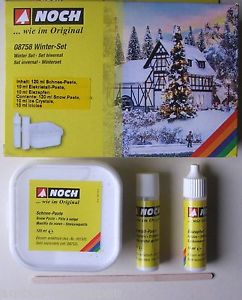 Brand:

Noch

Product Code:

NOC 08758

Availability:

Out of Stock
We have currently sold out of this product although we can email you with an ETA of when this product will be in stock again.
We will be in touch soon with news on the availability of this product.
Set Includes - 120ml Snow Paste, 10ml Ice crystal Paste, 10ml Icicles, 1x Stirring Spatula
With a spatula or brush, the silky, shimmering Snow Paste can be applied very easily to your landscape, rooftops, trees or vehicles.
It can also be modelled by hand to create the perfect snowman, or pile of snow.